DANNY ZAINO: YOUR AMERICAN WARRIOR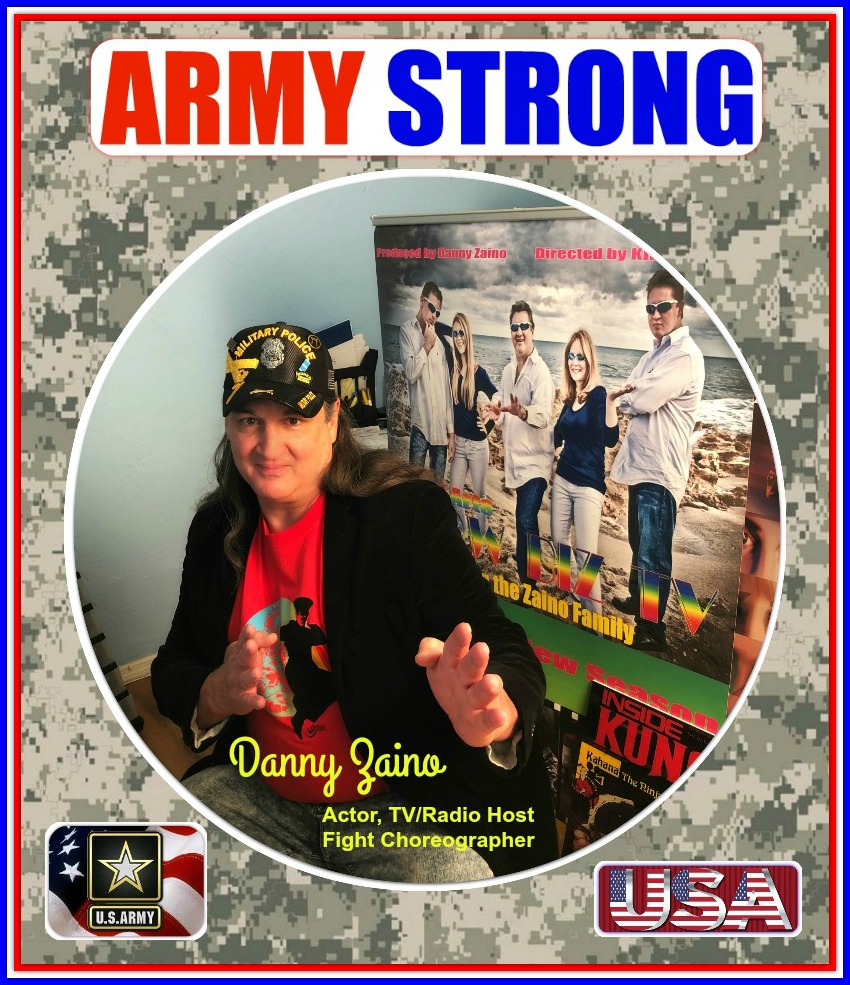 JUPITER, FL – It goes without saying that I am very pleased to have met and spent time with the Zaino family. In relation to the years served in the United States Military, as well as the military police force, proud veteran and grandmaster Danny Zaino hosts and produces the content for MASBTV NETWORK, a full service digital media network specializing in publicity and promotions since 1988 that highlights and supports Hollywood movies, its stars, and celebrities. Working alongside Danny closely the last few years, it goes without saying that one of the most inspiring parts about Danny that I've grown to value is his incredible insight on discipline, and through his extravagant teaching abilities, Danny instilled in me that discipline is a great way for me to harness anger and frustration, and that the majority of the competition that I'm going to face in my life will be dealt with a much greater deal of strength from this path. In this piece, I share my thoughts on what being a patriot really means and how one man has chosen to embrace lifelong hardships into life-changing positives. Danny Zaino "Crave It Hollywood" is a true hero.

In such a large industry, I have yet to meet anyone like Danny who continues to work so diligently for his peers. He is a true supporter of the PTSD program and its families, but there is so much more detail that has come from my experiences getting to know him. Danny was proud to join the U.S. Army after high school serving to protect this great nation of ours as a military police officer from June 13, 1979 to June 12, 1982. He was deployed to Korea to the DMZ (Demilitarized Zone) during the time of the assassination of South Korean President Park Chung-hee, the Gwangju Uprising (Massacre), and the Iran Crisis. He is the recipient of the Korean Service Medal. When his tour in Korea ended Danny finished out the remainder of his time served at Fort Bliss, TX, where he joined the U.S. Army Karate team performing in numerous demonstrations throughout Texas, Oklahoma, and Mexico as a recruiting tool for the U.S. Military.

Danny continues to educate those along the way about the beauty of discipline through his lifelong love of martial arts in which the Zaino family are truly pioneers becoming the originators of "Martial Arts Entertainment" with their National Team Pepsi "Show Team" sponsored by Pepsi Americas (now known as "Team Americas"). In the early years their unique and entertaining shows throughout the country is what laid the path for them into the entertainment industry and the dynasty they have built today.

Still teaching on a monthly basis to his black belts, Danny is currently an actor, TV/Radio Host, and fight choreographer for the motion picture and television industries to include being an instructor at the famous Kahana Stunt & Film School.

You can easily catch up on Danny's latest work and endeavors on the MASBTV NETWORK with radio shows that are broadcasted regularly to include the latest TV shows "The Road To Hollywood" series and the upcoming "Hard Core Cooking" with Danny Zaino shows produced by Living The Dream Productions.

Through his services & sacrifices Danny found his greatest passion in entertainment recently stating "I hope to bring people laughter, excitement, and most cleverly, something original".


Happy Veterans Day! May God Bless all who has served this great nation of ours. As Danny would say in true warrior spirit, "please be kind, no veteran left behind".


Written by Senior writer Eric Keeling
Hollywood Publications
www.masbtvnetwork.com
See full biography on Danny Zaino
www.masbtvnetwork.com/host-danny-zaino.html