Yes!
Picture That's Principal Wins
YES "You Make a Difference" Award
February 6, 2018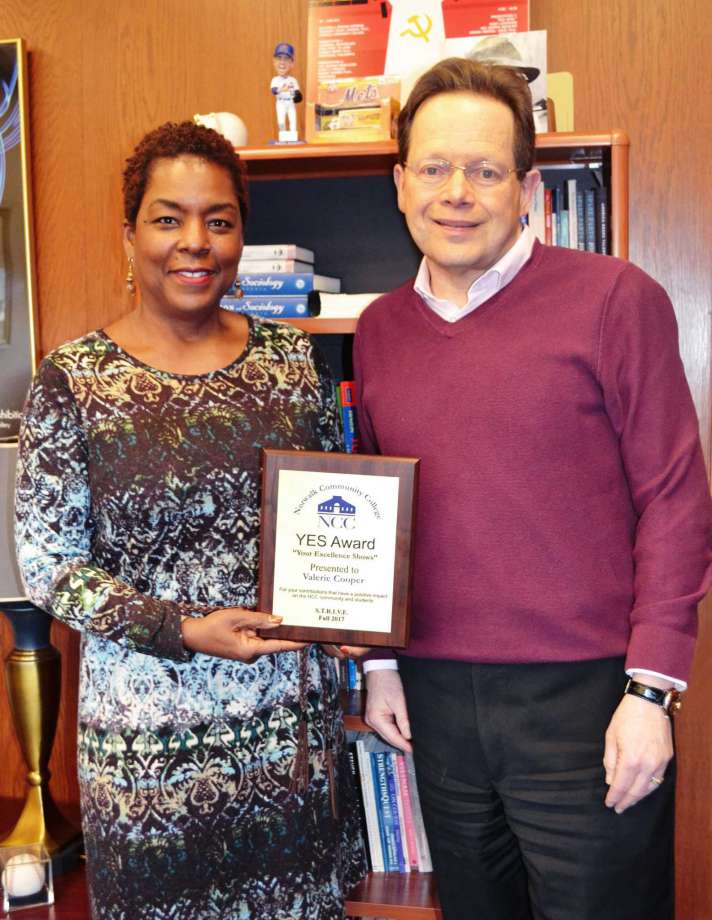 Valerie A. Cooper (L), Principal, Picture That Art Consultants

David L. Levinson, Ph.D. (R), President, Norwalk Community College
Press Contact: Rick Leonard
Email: rleonard@norwalk.edu
Marketing & PR Nowalk Community College

FOR IMMEDIATE RELEASE
A career-empowerment organization at Norwalk Community College called STRIVE has announced the winners of its inaugural YES "You Make a Difference" awards, which recognize NCC faculty and staff who have made a positive impact on the college community and its students. STRIVE, which stands for Support and Training Results in Valuable Employees, serves as a catalyst to help career-minded individuals at NCC make a personal and professional impact in their lives and within the college community.
A total of four winners were recognized, in the following categories:
Full-time faculty: Andrea Pizone, Mathematics Department
Adjunct faculty: Valerie A. Cooper, Communications & Speech
Community member: Harold Winston, NCC Security
Staff: Diane Donovan, Tutoring Services Center
Members of the college community provided nominations last fall, with the winners determined by the STRIVE executive board. The criteria for recognition are professional development, civic outreach, and social/business networking. Winners need to demonstrate their contributions to the NCC community, service above and beyond their position, and their exemplary work and behaviors that align with the mission and values of the college. Each recipient received exemplary quotes from students and others in support of her/his candidacy.
Another round of YES Awards will be held during spring semester with ballot boxes in the East and West Campus atriums receiving nominations from March 19 through April 20. Awards reception will be held in May for the inaugural winners as well as the newest spring recipients. The YES Awards will be held on a semester basis.
###